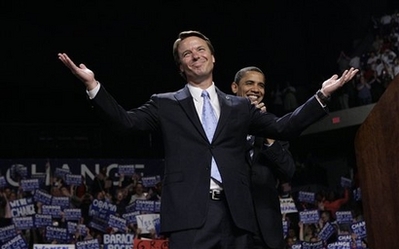 University spokeswoman Robin Kaler today said a student group at Illinois had booked Edwards to speak on campus Oct. 14 on "The American Dream," the Associated Press reports. Tickets are free; the student group is paying Edwards $65,000.
The group gave an Edwards' representative the chance to cancel the appearance by the former presidential candidate. "The agent responded that (Edwards) is adding to his calendar, and that the fee has gone up," Kaler said, declining to identify the agent. ***
The university said the couple's booking agency -((( it is the
The Harry Walker Agency
- did not say why
Elizabeth Edwards
had canceled Hofstra University Sept 8th )))) Edwards is making other public-speaking appearances, according to AP. He and his wife, Elizabeth, are scheduled to speak next month at Salem State College in Massachusetts, said spokesman Jim Glynn. The appearance was booked before Edwards' admission of his affair with a former filmmaker hired to work during his campaign.
# # #